Filter by Category
Paramedic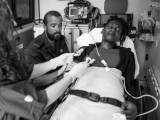 Paramedic Program - Fall 2023 (Seat Reservation)
with Linda Steele

Aug 14, 2023 at 6 pm

, runs for 58 weeks
The EMS Education Program is taking applications and seat reservations for the Fall 2023 Cohort. The 14-month program will begin August 2023. Tuition is $5,999. Classes will be offered in a variable format to meet the needs of the first responder community. This includes a hybrid format of live online, online coursework and in person face-to-face. All labs and clinical rotations are completed face-to-face. Classes will be held at the Wheeling Campus, 1704 Market Street Wheeling, WV 26003.
Prerequisites include a current WVOEMS or NREMT EMT certificate, available through WVNCC Career Development .
You can reserve your seat in the class with a $50 deposit. Contact us to discuss the financial aid options and payment plan options for the remainder of the tuition. Financial aid may be available to those who qualify from either HEAPS or WIOA funding. Books,uniforms, and certification costs are not included in the fees. Please contact Jenna Derrico jderrico@wvncc.edu or call 304-214-8962 for assistance. 
For more information on the program, please contact Ms. Linda Steele lsteele@wvncc.edu or call 304-214-8980 for assistance.